Manta Poker 3500 Basic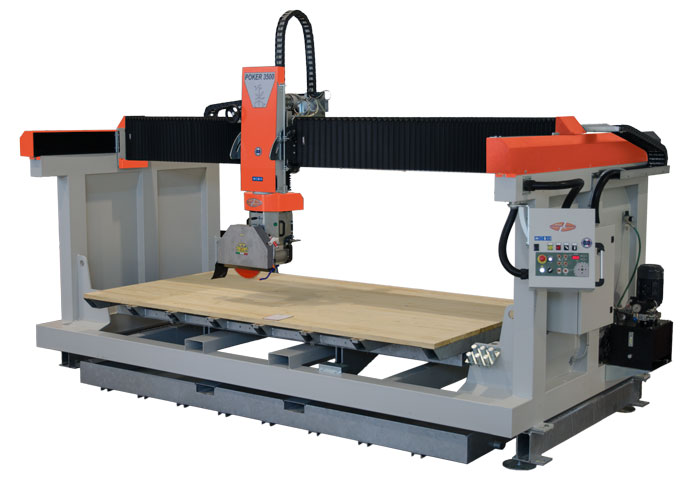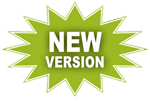 Monolithic steel frame protected by RAL 7035 light grey anti-corrosion ceramic-paint provided with RAL 2004 orange finished guards. Hot-dip galvanized tilting table for an easy slabs loading and lifting by means of two hydraulic cylinders placed underneath the table. Technical features: Beam painted with ceramic paint and protected by thermal welded bellows, waterproof and abrasion-resistant. Longitudinal (X axis) and cross cuts (Y axis). 3 motorized axes (X-Y-Z axes). Head rotation (C axis) at 0-90-180-270 degree in fixed positions manually operated. Head tilting (A axis) at 0-45 or 0-90 degree (optional) manually operated by means of a hand wheel and electronically displayed. Cutting head movement programmable at a single cut on 2 non-interpolated axes. Two cutting modes: 1 - manual mode, 2 - single or step cut. Stainless steel blade guard Ø450mm, other sizes available upon request. Complying with the EC regulations. Barriers or other protections are prerogative of the respective state regulations.
Accessories
Hot-dip galvanized steel table in wood, hydraulic folding
Green color cutout optical system mounted on the disk crankcase
Optionals
Cut disk
Electric drive roller
Working bench rubber
Training operators
Inverter for disc rotation control
---
Technical Data

ITEM
MOD.
150761
FRESA MANTA POKER 3500 BASIC
300-500
1400
8 - 400
1900x3500
250
150 - Ø 500
495x285x250
2300
* Voltage and power on request.
The technical data herein mentioned are non-binding. They are for your guidance, only.
NUOVA MONDIAL MEC reserves the right to modify the technical features of the machines without prior notice.