Manta Poker Jumbo Automatic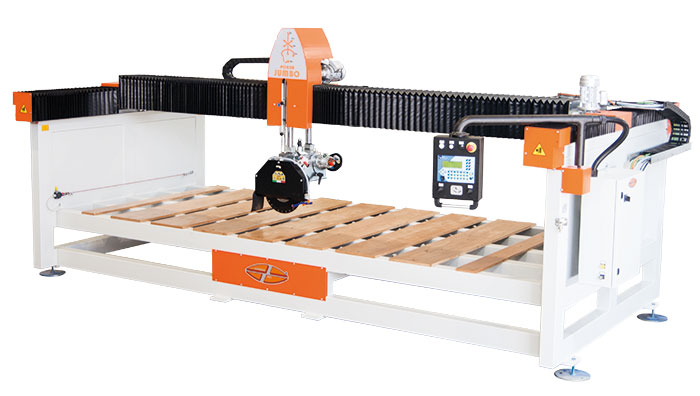 Robust and versatile monolithic machine. It cuts both length ways (X axis) and cross ways (Y axis). The head traverse is driven by means of the PLC integrated in the hanging panel on board the machine. The main features are: X Axis Traverse: 3500 mm.; Y Axis Traverse: 1850 mm. and squaring 1650 mm.; Z Axis raise: 140 mm; Cutting head speed driven by inverter; 0-90 degree turning head, manual; 0-90 degree head inclination by means of a handwheel. CE marking. Barriers or other protections are prerogative of the respective state regulations.
Accessories
Marine wood bench with integrated pop up rollers system to lift slabs
PLC with encoder to check and position the cutting head in manual, semi-automatic (A1) and auto mode
Software with seven functional cutting programs easy to use
Step cutting facility
Zero function to set back the machine to the original cutting head position
Gutter function
Adjustable feet
Laser Pointer
Optionals
Diamond Blade
Software A3 for repeated cuts in automatic mode at one size on two axes
Software MULTIPAGE for repeated cuts in automatic mode up to 10 different sizes on two axes
PLC with touch-screen for profiling
Remote keyboard
Tray with pump to collect and recover of the disc cooling water
Positioning, installation of the machine and training of operators
---
Technical Data

ITEM
MOD.
150758
FRESA MANTA POKER JUMBO AUTOMATICA
450 - 40
1400
8 - 400
3500
400
150
495x238x220
2100
150765
FRESA MANTA POKER JUMBO AUTO BRUSHLESS
450 - 40
1400
8 - 400
3500
400
150
495x238x220
2100
The technical data herein mentioned are non-binding. They are for your guidance, only.
NUOVA MONDIAL MEC reserves the right to modify the technical features of the machines without prior notice.