Manta Poker 3500 AS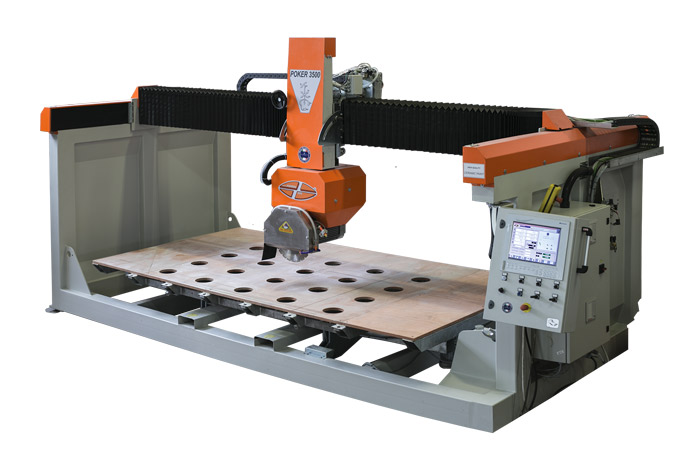 Electro-welded monolithic structure. Main engine with 11 kW power controlled by inverters to vary disk or tool revolutions from 600 to 3000 RPM. Standard ø450 disc, other sizes on request. Asynchronous motor drives powered by inverters and controlled by CNC (computer numerical control). Ceramic painted structure and track, which guarantees a long service life and excellent corrosion protection, galvanized hot-dip galvanized. Axis X, Y
and Z axle movement with ballast recirculated trolleys on rectangular rails. 5 electronically controlled axes allow you to make orthogonal cuts automatically. Threaded front attachment to the main motor for cutters or forks (optional). Automatic lubrication controlled by the CNC. Cooling internal crankshaft for cutters and forks (optional). Folding bench with 2 hydraulic cylinders. Wood covered bench. All moving parts are protected by bellows in a special abrasion-resistant canvas. Standard projector for GREEN colour disk positioning. 15-inch touch screen with numeric keypads. AXES: C AXIS: head rotation 0-360°, A AXIS: blade tilting 0-90°, Slab sizes 3500 x 1900. The machine is designed to be lifted with a forklift or an overhead travelling crane. Barriers or other protections are prerogative of the respective state regulations.
Accessories
barriers with safety switch
intake 1/2 GAS for wheels
electric laser pointer 10mW red diode
Optionals
cutting blade
bench rubber layered with hydraulic built in pop up rollers
electric laser pointer 20mW green diode
CAD CAM software
---
Technical Data

ITEM
MOD.
150760
FRESA MANTA POKER 3500 AS
300-500
600 - 3000
11 - 400
1900x3500
250
150 - Ø 500
495x285x250
2550
* Voltage and power upon request.
The technical data herein mentioned are non-binding. They are for your guidance, only.
NUOVA MONDIAL MEC reserves the right to modify the technical features of the machines without prior notice.