Manta JR Basic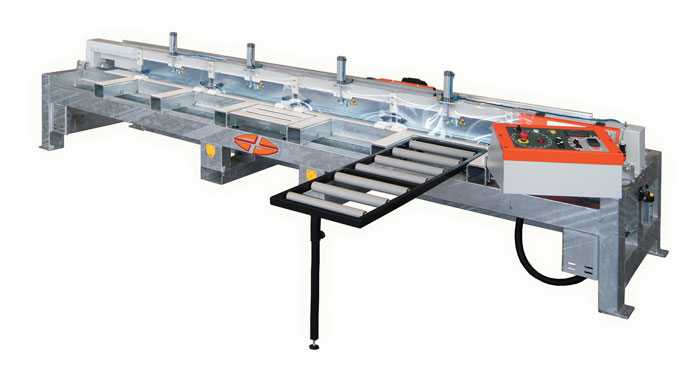 It is the first of a family of machines designed to cut corners very precisely. Its robust, compact structure and precision slides guarantee exceptional cutting quality. The position of the cutting motor below the work surface means that, in most cases, the shiny part of the material is facing downwards and in contact with the machine surface covered with white rubber. It is equipped with 4 pneumatic pistons for blocking the material, it can cut in both directions with adjustable speed and is equipped with an electromechanical system to interrupt the cuts to the desired size. The inclination of the disc is manually adjustable (+ - 5 °), as is the stop. Equipped with guide protection bellows.
Accessories
6 Levelling feet
Side table with 7 rubber covered rollers
Interrupted cut system
Table for small pieces
2 Devices for short pieces
2 Micro Clamps (for thin pieces)
Set of servicing wrenches
Optionals
Cutting blade
Extra side tables
Mini roll extension
Ruler to adjust the lenght of cut
Water tray with pump
Operators' training
---
Technical Data

ITEM
MOD.
150813
MANTA JR BASIC - 45° TESTA FISSA C/INVERTER
400 - 40
2800 Max*
5,5 - 400
3500
60
483X120X115
1050
150803
MANTA JR BASIC
400 - 40
1400**
4 - 400
3500
60
483x120x115
1050
* with inverter for adjusting the disc rpm / ** without inverter
The technical data herein mentioned are non-binding. They are for your guidance, only.
NUOVA MONDIAL MEC reserves the right to modify the technical features of the machines without prior notice.