Manta Poker 3500 TOP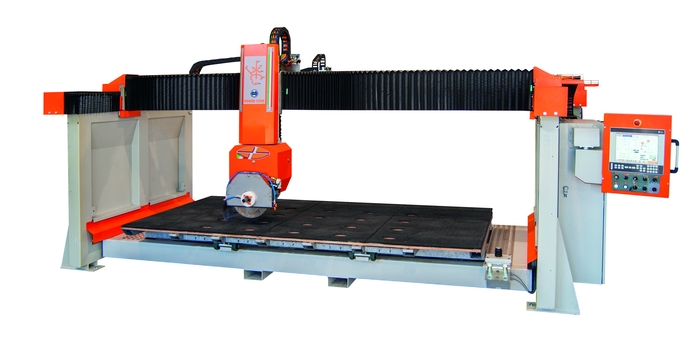 Sturdy and compact numerically controlled bridge. 5 motorized and interpolating axis X,Y, Z, C (from 0° to 370°), A (from 0° to 90°). Axis X, Y and Z movements by means of carriages with ball recirculating linear guides on rectified rails. Squaring dimensions 3500 x 2100 mm.
Inverter to adjust the disc rotation speed (from 600 to 6000 rpm).
Thanks to the 20 standard Macros, you can realize: cross cuts, longitudinal cuts, diagonal cuts, circular, arched, circular hollowing operations, holes, sink cuts and others.
The movement of the operating head and axis, is managed by a 15" CNC touchscreen integrated in the panel board of the machine, with the new "Touch and Go" interface, simple and intuitive.
The main technical features are: 15 kW blade motor. Axis protection bellows in special abrasion resistant material. Structure and rail painted with ceramic treatment. Movement of operating head and axis managed by drives and brushless motors; Blade motor equipped with tool connection for core bits and cutters.
Barriers or other protection are prerogative of the respective state regulations.
Accessories
Inverter for blade rotation speed adjustment
Hanging CNC with touch screen interface
Adjustable feet
Stops for slabs
Optical cut marker device (green light)
Disc diameter measuring device
Optionals
Diamond cutting blade
Led light for work area illumination
Removable PVC tank for colletion of blade's cooling water equipped with pump
CAM software for DXF file import with PC and totem
Remote control keyboard
Slab thickness detection device
Workbench finishes and pop-up rollers
Positioning, installation and training of operators
---
Technical Data

ITEM
MOD.
160600
FRESA MANTA POKER 3500 TOP
450
600 - 6000
15 - 400
2100x3500
250
140 - Ø 450
583x230x251
3200
* Voltage and power on request.
The technical data herein mentioned are non-binding. They are for your guidance, only.
NUOVA MONDIAL MEC reserves the right to modify the technical features of the machines without prior notice.