Manta Poker Jumbo Brushless 4+1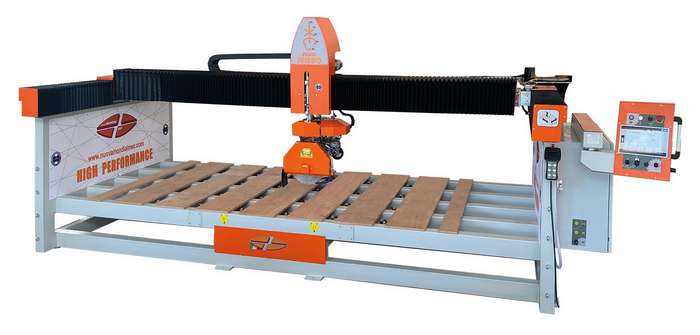 Robust and solid machine for making cross, longitudinal and diagonal cuts (4 motorized axis). The head traverse is driven by means of the CNC touch screen integrated in the hanging panel on board of the machine with simple and intuitive 10-inch interface. The main features are: X Axis Traverse: 3500 mm; Y Axis Traverse: 1850 mm. All moving parts are protected by special thermal welded abrasion-resistant bellows. Structure painted with ceramic treatment. Cutting head speed driven by drive and brushless motors. Motorized rotation of the C Axis from 0° to 180° and manual tilting of the head with visualization of the degrees on the display. Motor equipped with right M14 connection for drill bits. Standard features: single cut; A Axis crosscut interpolated with X or Y Axis; multi-cut on X and Y Axis; grinding with blade and possibility to realize an inclined plane. Complying with CE standards. Barriers or other protections are prerogative of the respective state regulations.
Machine functions: https://youtu.be/y6_9SzjhfvQ
Accessories
Inverter for blade rotation speed adjustment
Marine wood bench with integrated system to lift slabs
Hanging CNC with touch screen interface
Adjustable feet
Optical cut marker device (green light)
Optionals
Diamond blade
Profile function
Remote keyboard
Tray with submersible pump to collect and recover the water cooling the blade
Positioning, installation and training of operators
---
Technical Data

ITEM
MOD.
150769
FRESA MANTA POKER JUMBO BRUSHLESS 4+1
400 - 40
1200/3300
8 - 400
3500
295
125
546x220x217
2000
* voltage and power on request
The technical data herein mentioned are non-binding. They are for your guidance, only.
NUOVA MONDIAL MEC reserves the right to modify the technical features of the machines without prior notice.