Manta JR Evo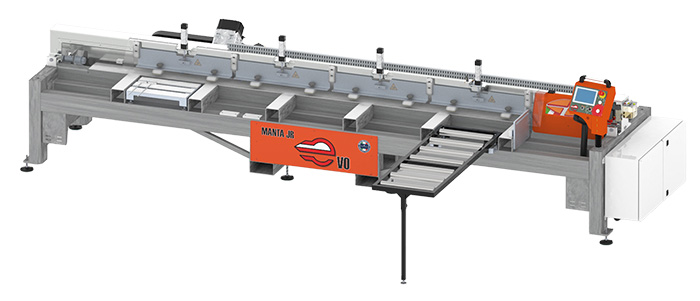 It is the top model of a range of machines particularly designed to cut corners in a very precise way. Its robust and solid structure is equipped with precision slides capable of ensuring exceptional cutting quality. The position of the cutting motor below the work surface means that, in most cases, the shiny part of the material is facing downwards and in contact with the machine surface covered with white rubber. It is equipped with a CNC that controls the cutting movement and the speed, the rotation speed of the diamond blade and 4 pneumatic pistons with 8 contact points for blocking the material. It is possible to cut pieces with a minimum width of 45 mm (with special hooks).
Equipped with a brusless motor that controls the cutting axis, it is able to advance at an adjustable speed from zero to 3 meters per minute. In rapid movements to return to the starting point, it reaches 17 meters per minute.
Accessories
6 Leveling feet
Extender with 7 rubber rollers
2 Device for thin pieces
2 Device for short pieces
table for small pieces
Service key set
Optionals
Diamond cutting disc
Additional roller extenders
Tank with pump
Operator training
Side locking kit
Roller table for backsplash
---
Technical Data

ITEM
MOD.
150820
MANTA JR EVO
400 - 40
1400-3300
11 - 400
3500
60
485x120x115
1100
The technical data herein mentioned are non-binding. They are for your guidance, only.
NUOVA MONDIAL MEC reserves the right to modify the technical features of the machines without prior notice.